Brought up in Oldbury, West Midlands and educated at the University of Wolverhampton, Komlaish Achall believes that art and culture are powerful tools that evoke emotion, inspire creativity and challenge perceptions.
The undertones that directed her practice are Diaspora, cultural hybridization, domesticity, religion and female Asian identity. Through the use of photography, imagery, digital layering, collage, painting, sculpture and installation art, Achall question's self, the other, hybrid identities and location.
The areas of her research and study focus on exploring the British Asian identity, issues around integration and what it means to live between cultures. Achall explores the contradictions through her artwork, highlighting conflict and harmony in contemporary Britain, documenting both the fusions and denials, while seeking to illustrate multifaceted complexities that interweave, juxtapose and collide to make-up this hybridity.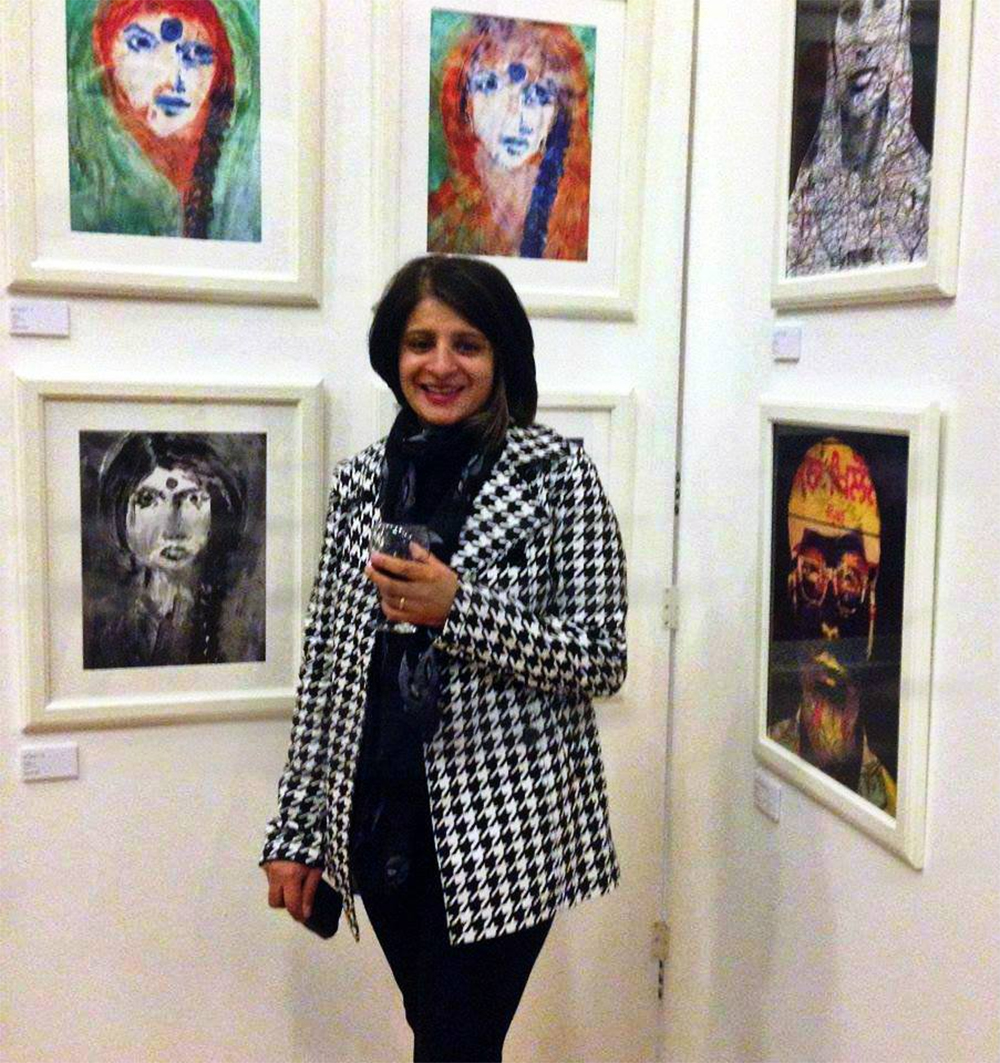 2014: Distinction (MFA) – Master of Fine Art
2012: 2.1 – BA (Hons) – Fine Art
2009: Distinction – Art and Design BTEC Diploma in Foundation Studies
Exhibitions and Special Commissions
2018: Punjabi Women's Poetry/Photography – Central Library Wolverhampton
2018: 'Hauntology' – Asylum Art Gallery
2018: I AM ALWAYS WITH YOU – Wolverhampton Church Shelter
2018: Celebrating 20 years Refugee Week – Lighthouse Media centre
2018: 'Caste in Britain' – Shri Guru Ravidass Temples
2018: SYLVIA – International women's day – Newhampton Arts Centre
2017: UNSUNG – Wolverhampton Art Gallery
2017 October: World Mental Health Day, Wild Bytes Gallery
2017 August: The 70th Anniversary of the Partition of India
2017 August: Curated /RECEPTION/ STRYX Birmingham
2017 August: UNTOLD – Bantock House Museum
2017 July: UNTOLD – Viner Gallery
2017 June: Different Pasts, Shared Futures, Refugee Week, Lighthouse
2017 May: 'SURVIVORS' Asian History Month, Wolverhampton Archives
2017 May: 'SURVIVORS' Asian History Month, University of Wolverhampton
2017: The 70th Anniversary of the Partition of India
2017: REFECTED REALITIES – The Arches Project Birmingham
2017: Reclaiming 'Cultural Landscape', Reclaim Photography Festival International
2017: Ghost Dinner Party, International Women's Day
2016: Back to Black, Wolverhampton Art Gallery
2016: And The Beat Goes On – Eagle Works Galley
2016: And The Beat Goes On – Asylum Art Gallery
2016: Women In Art, Lighthouse Gallery
2016 July: Photography Exhibition – Newhampton Arts centre
2016: 'Journeys' Lock Works – Lighthouse Media centre
2016: 'Welcome'- Different Pasts, Shared Futures, Refugee Week, Lighthouse
2016: 'Shopkeeper' Reclaim Photography Festival, Long Art Gallery
2016: 'Shopkeeper' Reclaim Photography Festival, International Exhibition
2016: I AM Contemporary Art Exhibition, Newhampton Arts centre
2016: 'Journeys' International Women's Day, The Drum, Birmingham
2015: Illusion Contemporary Art Fair, Newhampton Arts centre
2015: 'Swept' Lock Works – Lighthouse Media centre
2015: Petals of Hope, Food Art Exhibition, Lighthouse Upper Gallery
2015: TRASTOPIA, Direct Art Action, The Old Print Works, Birmingham
2015: NEPTOPIA, Contemporary Art Exhibition, Wheat-sheaf, Walsall
2015: UNDERLYING PERSPECTIVES – Asylum Art Gallery
2015: (Air Mail Par Avion), Different Pasts, Shared Futures, Refugee Week, Lighthouse
2015: UNDERLYING PERSPECTIVES, Direct Art Action, Saddlers Centre Walsall
2015: UNDERLYING PERSPECTIVES – Lock Works, Lighthouse Media centre
2014: "In Between Cultures" Photography Exhibition, Wolverhampton Archives
2013: Recherche, Wolverhampton Art Gallery